Sue Roberts Interviewed about flooding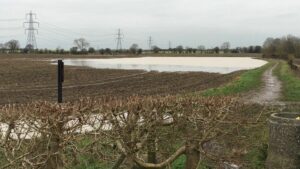 Land earmarked for thousands of new homes in south Oxfordshire remains waterlogged, with more flood warnings in place across the county.
The proposal to build up to 3,000 homes near Grenoble Road was approved in December after years of debate.
However, flooding at the weekend has led to concerns over whether the site is suitable.
South Oxfordshire District Council (SODC) said a strategic flood risk assessment had been carried out.
It said in a statement the risk assessment identified "a part of the Grenoble Road strategic allocation site to be susceptible to flooding".
The council added that a future flood assessment alongside a planning application "would ensure housing is not built where it currently floods without appropriate mitigation".
A local resident, who did not want to be named, told the Local Democracy Reporting Service: "It really is perplexing how, in this day and age, we can give permission to build on land that gets absolutely saturated and as a consequence, we then moan about flooding, it beggars belief."
The new properties would be created as part of South Oxfordshire's Local Plan – a blueprint for development up until 2035 – which has cost more than £3.6m.
Under the plan, 13,500 new homes would be built on green and brown belt sites, including Grenoble Road, which has been labelled a "strategic site" that will help meet the housing needs of people living in Oxford.
South Oxfordshire district councillor Dr Sue Roberts said with "more and more severe weather events" happening "we shouldn't be building like this".
She said: "It's not safe and it's not fair on the people moving into these homes."
Across Oxfordshire, 13 flood warnings were in place.
BBC SOUTH TODAY [https://www.bbc.co.uk/news/uk-england-oxfordshire-55919980] (date accessed 8/2/2021)